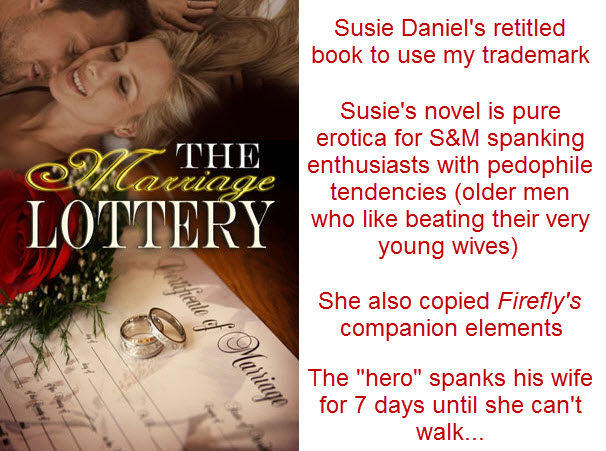 A few months ago I did a post on Susie Daniel's The Marriage Lottery, a book that was mirrored after my own Marriage Lottery series. At the time Ms. Daniel had a book that was out of print with a subtitle the same as my series. Now she has crossed over into trademark infringement. She's retitled her novel to have the same title as my series and she's changed the synopsis of her novel to mirror mine. She is, in fact, copying elements of my books and my trademark. A notice was sent two weeks ago to all the parties concerned for trademark infringement. I will continue to pursue legal means to have Ms. Daniel refrain from using my trademark.
Please know that I do not write erotica and Ms. Daniel's using of my trademark constitutes trademark infringement.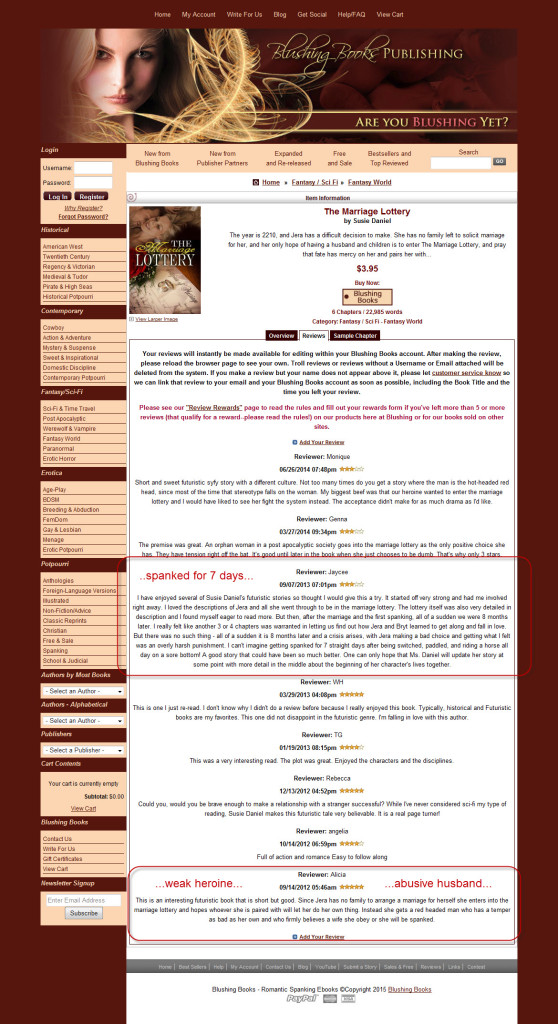 Below is the original synopsis for Ms. Daniel's novel which was entitled Jera: A Lottery:
Jera was desperate or she wouldn't have signed the papers. A female alone in today's world had few options. Jera only had three open to her; to enter a Society of Good Works, to be a Paid Companion and lose all rights to her self, or to take a husband in the Marriage Lottery.

Jera simply was not the type of person to enter a Society of Good Words. The members lived a life of poverty, provided with only their most basic needs. They were not permitted to accept gifts of any kind, and they were not paid. They did whatever was asked of them by the Deacon and Deaconess, and wore a simple black uniform, which was nothing more than black pants, and a black tunic emblazoned with a white cross, and a simple pair of sandals on their feet. It was a simple life, and the other members in the Society became their 'brothers and sisters'. They were all expected to remain celibate, and the penalty for breaking this rule was immediate transportation to one of the penal colonies on Mars. While not considered felons themselves, thedemoted workers lived and worked among the criminals, serving their needs. They were not permitted to marry, and were forever considered in disgrace. It was not a lifestyle that appealed to Jera. She was raised with wealth, and she was not considered 'obedient' by her teachers. Several times over the last few years Tenson had received criticisms from them, and suggestions as to how to improve his sister's behavior. While Tenson might scold, and insist she apologize to her teachers and work harder on her studies, he never punished her in the manner suggested. Jera wanted the love of a man, and she wished to become a mother, which was prohibited by the Society of Good Works, of course.

As a Paid Companion, Jera would be at her Master's whim. Her contract could be bought and sold to others, and she would be required to do as bid, whether she wanted to or not.
This plot, by the way, is a copy of the Firefly television series paid companion line, so Ms. Daniel's is already guilty of copyright infringement. But Ms. Daniel's went further to retitle her novel to The Marriage Lottery and then to copy parts of my synopses:
The year is 2210, and Jera has a difficult decision to make. She has no family left to solicit marriage for her, and her only hope of having a husband and children is to enter The Marriage Lottery, and pray that fate has mercy on her and pairs her with a man who will let her do as she pleases. Instead, she is matched with a redheaded, arrogant, impossibly handsome man with a temper as bad as hers, and even worse, he firmly believes in spanking his disobedient, disrespectful wife!

They are assigned to build a medical clinic in Newsome, New Atlantica, but when their supplies keep getting stolen, Bryt decides to take matters into his own hands and catch the thieves. Jera can't bear the thought of her husband riding into danger alone, so she makes the decision to follow him to keep him safe, knowing full well that sooner or later she will face the consequences…
Sound familiar? Ms. Daniel copied parts of my synopsis verbatim and made it appear that her novel was a part of my series. It is not. She went a step further to hire paid reviewers to call her novel post-apocalyptic romance which is the subtitle of my Marriage Lottery series. This is trademark infringement and it's illegal. Once you publish a novel, you can change the title, but it becomes a new novel and the date of that publication begins then. You cannot use an older version of the novel with a different title and claim trademark rights. That's illegal.
It's a shame that Ms. Daniel did this.
Susie Daniel is part of Blushing Books run by Bethany Burke.  This group writes erotica that caters to sadism-masochism couples with pedophile tendencies who practice aggressive spanking.  In other words, old men with very young wives who beat them on the behind until they're black and blue, like some kind of incestuous father-daughter spanking sex club.  This tarnishes my brand and my trademark.  I don't write any erotica, nor do I write about pedophiles or sadism-masochism.